So far we had not stopped in this interesting utility. At the time of writing a text,

Hotmail

puts at your disposal a toolbar of text editing, rich text bar or format bar, as it is also known, that can help us a lot to complete our text, make it more readable , more striking and give the desired format.

Previously, we will click on "New", so that the new email appears ready to write.

This text editing bar, similar to the one we can find in word processing programs, such as Microsoft Word, allows us to put bold, italics, underlining, change the typographic font we are using, the size of that font, its color, the highlight color, organize the texts in list or outline format, increase and reduce indentations, align the texts, create links and even add emoticons to our message.

If we move the mouse cursor over any of these icons, a text appears that explains its function, as in the image above (cursor over bold icon, first from the left).

The operation is very simple. In any of the cases we have discussed, just select the text you want and select one of the options to apply the desired format.

As we see in the example we have selected the text and then we will click on the bold icon, obtaining the following result:

The operation with each of the icons and functionalities is similar: select text and press the icon that we need.

Let's see another example. how to put a link, so that the service opens an external web page. We select the text ...

click on the link option (the second on the right) and we open a new window in which we must write the address of the page we want to open our recipient. Then click "Accept" and see the result:
Powered by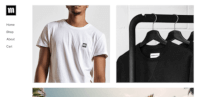 Create your own unique website with customizable templates.